MARK STOLAROFF, Instructor
Mark Stolaroff is an independent producer and a founding partner of Antic Pictures, an LA-based production company producing a slate of low budget, high quality digital features. He recently completed work on Meera Menon's Farah Goes Bang, which premiered in April at the 2013 Tribeca Film Festival, winning the Nora Ephron Award; and on award-winning writer/director Henry Barrial's fifth feature, The House That Jack Built, which premiered in June at the 2013 Los Angeles Film Festival. Stolaroff produced Barrial's fourth feature, the micro-budget film Pig, which was an official selection at over 35 film festivals worldwide, winning 10 awards, including 7 Best Feature award. Pig is being distributed by Kino Lorber later in the year. With Ron Judkins, Stolaroff produced Barrial's third feature, True Love, which was developed in the Sundance Screenwriters Lab and was a hit on the festival circuit. Other projects include: The Trouble With Men And Women, (2006, Associate Producer); the feature documentary Paper Chasers, (2005, Co-Producer); Some Body (2002, Associate Producer); Manic, (starring Joseph Gordon Levitt, Don Cheadle, and Zooey Deschanel) (2001, Associate Producer); Keep The River On Your Right: A Modern Cannibal Tale (2000, Associate Producer), and others.
Stolaroff was formerly a principal of Next Wave Films, a company of The Independent Film Channel that provided finishing funds to exceptional, low budget films; and through its production arm Agenda 2000, financed and executive produced digital features. Included in Next Wave's 13 films are Christopher Nolan's (Inception, The Dark Knight, Batman Begins, Memento,) first feature, Following; Joe Carnahan's (The A-Team, Narc) first feature, Blood, Guts, Bullets, & Octane; Amir Bar Lev's (The Tillman Story, My Kid Could Paint That) first feature Fighter; the Academy Award-nominated documentary Sound And Fury; and the Sundance Grand Jury Prize winning documentary Southern Comfort. In all Next Wave took seven films to Sundance and five to Toronto; nine were released theatrically in the U.S. and two premiered on HBO; nine were shot digitally and six of those were transferred to film.
Stolaroff has lectured on low/no budget and digital filmmaking throughout the world and at many of the major film festivals. He has taught film classes at UCLA Extension, the Maine Film Workshop, and The Learning Annex and has written for Scientific American, Filmmaker, Sight & Sound, Film Festival Reporter, and Film Arts Magazine. He has been on countless filmmaking panels over the last two decades, including serving as the Series Moderator for IFP/LA's Digital Filmmaking Series in 2001 and 2002. He has sat on the juries of several film festivals and was on the Advisory Board of HBO's US Comedy Arts Film Festival. He currently serves on the advisory board of Filmmakers Alliance. Stolaroff founded No Budget Film School in 2005, and in addition to teaching his classes, has lectured at most of the major film schools.

Stolaroff has extensive production experience on several low budget features and shorts, including production managing the Academy Award winning short film My Mother Dreams The Satan's Disciples in New York. His background also includes two years in Investment Banking at Merrill Lynch Capital Markets, and five years as the Managing Director of Curtains Theater, an innovative legitimate theater he founded in Houston. A native Texan, Stolaroff received his BBA from the prestigious Business Honors Program at the University of Texas in Austin and minored in Film Production, directing several 16mm shorts.

Guest Speakers for the February/March 2015 Class: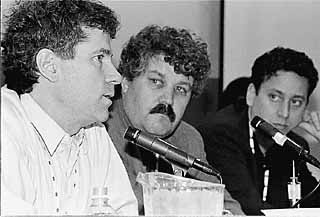 Peter Broderick (left)

PETER BRODERICK
is President of Paradigm Consulting, which provides strategic consulting services to filmmakers and media companies. In addition to advising on financing, sales, and marketing, Paradigm Consulting specializes in state-of-the-art distribution techniques -- including innovative theatrical service deals, cutting edge video strategies (mixing retail and direct sales online), and new approaches to global distribution. It helps filmmakers reach target markets effectively and build core personal audiences.
Broderick was founder and President of Next Wave Films, which helped launch the careers of exceptionally talented filmmakers from the U.S. and abroad. A company of the Independent Film Channel, Next Wave supplied finishing funds and other vital support to filmmakers, and financed digital features through its production arm--Agenda 2000. Next Wave's features included Christopher Nolan's
Following
, Joe Carnahan's
Blood Guts Bullets & Octane
, Jordan Melamed's
Manic
, Kate Davis's
Southern Comfort
, Josh Aronson's
Sound and Fury
, and Amir Bar-Lev's
Fighter
. Broderick played a key role in the growth of the ultra-low budget feature movement and has been a leading advocate of digital moviemaking, giving presentations on digital production at Cannes, Sundance, Toronto, Berlin and many other festivals. He has lectured at Harvard, taught courses at UCLA, and written articles for Scientific American, The New York Times, The Economist, The Los Angeles Times, and Filmmaker magazine. A graduate of Brown University, Cambridge University, and Yale Law School, he practiced law in Washington, DC.
Most recently, Broderick has focused on the coming revolution in independent distribution. In addition to giving keynote speeches on the subject internationally, he published a groundbreaking article, "Maximizing Distribution," in the Directors Guild of America magazine (Jan. 2004,
http://dga.org/news/v28_5/craft_maxdist.php3
). In 2004 he launched a website,
http://www.filmstoseebeforeyouvote.org
, designed to harness the power of film to impact elections utilizing new distribution techniques. For more information on his sought-after consulting services, visit his website:
http://www.peterbroderick.com
Director, Producer, Cinematographer Ricky Fosheim is the founder of Detention Films, where he has produced three feature films and dozens of music videos. Ricky's latest feature, And Uneasy Lies the Mind, is the first feature film to be shot entirely on the iPhone. It screened at SXSW and was released world wide in September 2014. Ricky also produced the sequel to the cult classic film ThanksKilling, which is a horror/comedy about a group of rag tag puppets that must ban together to stop an evil turkey from taking over the world during Thanksgiving. Ricky was able to bring creative financing to the tongue in cheek film, which until recently was the highest funded horror feature of all time on Kickstarter.com. ThanksKilling Three had a theatrical release Thanksgiving 2012. Ricky spent four years as a freelance cinematographer at Will Ferrell's comedy website Funny or Die, where he had the opportunity to shoot for almost every major actor in Hollywood. He has also shot documentaries on every continent for The Salvation Army. Ricky holds two degrees, a B.A in Film Production and a B.B.A. in Business Entrepreneurship from Loyola Marymount University. ​


Blake Robbins is an award winning writer, director and actor. His feature film debut The Sublime and Beautiful was chosen as one of 10 narrative features selected from thousands to world premiere in competition at the 20th annual Slamdance Film Festival. The Sublime and Beautiful has since played 11 major film festivals, winning 8 awards and receiving another 7 award nominations. Currently picked up for North American distribution by Candy Factory Productions. Blake is now developing four feature film scripts and one tv series. As an actor Blake began his career in NYC having performed in over 60 theaterical productions including Broadway and Off-Broadway. Known to televison audiences for his performances as Dave Brass on the critically acclaimed HBO series OZ, as Tom Halpert (Jim's older brother) on the hit NBC comedy The Office, Mitch Glender on FX's Sons of Anarchy, and more recently as Dennis Evans on the new TNT series Legends, as well as another 30 plus guest appreances. For his performance in The Sublime and Beautiful he won the Best Actor Grand Jury Award from the Newport Beach Film Festival and the Leonardo Da Vincini Golden Horse Award for Best Actor from the Milan International Film Festival. Among his 20 film appearances are the cult hit Rubber (Cannes Film Festival), The Lull Breaker (Toronto Film Festival), Love Comes to the Executioner (SXSW), The Only Good Indian (Sundance) and The Ugly Truth (Lakeshore Ent.) opposite Gerard Butler.


MATT RADECKI is a Los Angeles-based producer, director, editor and cinematographer, and the co-founder of Different by Design, a high-definition production and post-production company. Included in Matt's credits are "TV Junkie," a feature-length documentary he co-directed and edited which won a Special Jury Prize at the 2006 Sundance Film Festival and is currently screening on HBO. "Chasing 3000," which he co-produced with his Different By Design co-founder Greg Lanesey (who directs), premiered at the Tribeca Film Festival and stars Ray Liotta, Rory Culkin, Lauren Holly, Seymour Cassell, Keith David and M. Emmet Walsh. He also produced and is co-cinematographer of "Red White Black & Blue," which aired on PBS' Independent Lens in 2007. He also edited "Who's Back" (shot by DA Pennebaker), which appeared on the definitive Who DVD collection "Incredible Journey." More recently, he was the producer of the multi-award winning documentary Marwecol.
Different By Design
www.dxdproductions.com
was founded in 2004 to produce interesting and entertaining films and provide high definition production and post-production services to their clients. Since its inception, Different By Design has produced six feature length films and has provided HD services on over 100 films, documentaries and music videos, including "Me & You & Everyone We Know," "The Aristocrats" and music videos for Keith Urban and Switchfoot. Different By Design can provide high definition camera packages through its partnership with HD Cinema, high definition and standard definition online and color correction as well as dubs, down converts and deck rentals.
Instructor for March 7-8, 2015 "Cinema Language" Classes: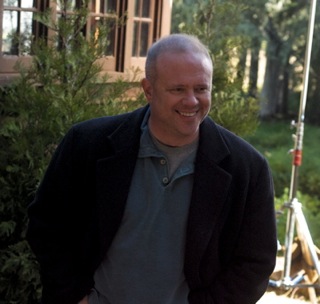 Tom Provost
TOM PROVOST has enjoyed a varied and successful career in the entertainment industry as an author, screenwriter, editor, director, producer, actor, and instructor. Before graduating from The University of Texas in Austin's prestigious Plan II honors program with an emphasis in film, he wrote and directed several shorts and authored a published thesis on director Alfred Hitchcock. He then moved to Los Angeles to pursue an acting career. After landing several parts in film and TV, including a recurring role on Steven Spielberg's SeaQuest DSV, Provost took up editing, learning the Avid system just as non-linear editing was beginning to make its way on the scene. After editing short films and a couple of features, he worked for several years cutting and producing award-winning promos for the WB and Bravo Television Networks. During this time he was hired to adapt a script for Morgan Freeman's production company, Revelations, a screenplay eventually made into the film Under Suspicion starring Freeman and Gene Hackman, directed by Stephen Hopkins. The screenplay was nominated for an Edgar Award. This lead to work as a script doctor, where his ability to shape story has been highly prized.
Provost's feature directorial debut
The Presence
, (
www.thepresencemovie.com
), which he also wrote, was recently released by Lionsgate. The inventive ghost story/modern-day gothic romance stars Academy Award-winning actress Mira Sorvino (
Mighty Aphrodite
), Shane West (
ER
), Golden Globe Nominee Justin Kirk (
Weeds
), and Tony Curan (
Pearl Harbor, Gladiator
). In addition to directing commercials and editing reality TV (
The Bachelor
,
The Apprentice
[Emmy nominated], and several others), Provost has been a popular film instructor at a variety of venues all over the country for many years.
A graduate professor of Screenwriting at Pepperdine University in Malibu, you can read some of Provost's writing at his blog:
onfoodandfilm.com