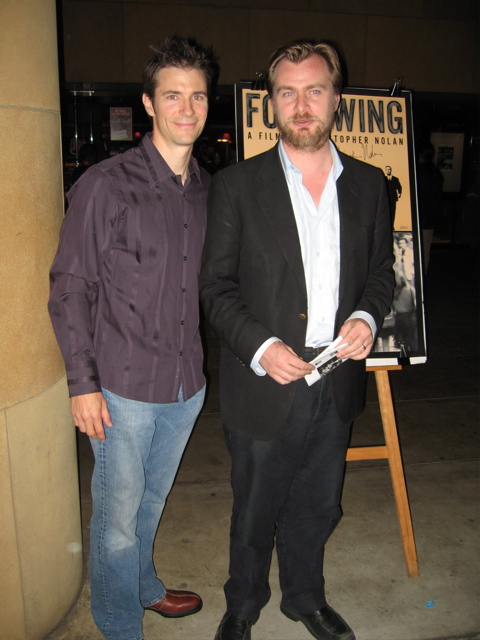 Stolaroff with Director Chris Nolan
Mark Stolaroff
of No Budget Film School offers personal one-on-one consulting for your no-budget feature project. Put my nearly 20 years of low-budget production experience and industry contacts to work for you. Here are the areas I can provide guidance in:
- Camera/Format Selection
- Cast/Casting/SAG Contracts
- Equipment
- Insurance
- Crew
- Locations & Permits
- Legal & Clearances
- Introduction to Post Production Workflows
- Introduction to Festival Strategy, Marketing, & Distribution
- Crowdfunding (i.e. Kickstarter)

- I can also give you some idea of the commercial viability of the project (i.e., is the commercial potential of your project in line with the investment?)
- I can give you some idea of the artistic merits of the project, (i.e., is this a "festival" or "arthouse" film? A "Sundance" film? Is it unique, or have programmers seen it 1000 times before?)
I will NOT be looking at projects from the perspective of a traditional script consultant, advising how to improve the script; but rather from the prospective of a producer, advising how to get the feature made on a micro-budget level. (I can recommend script consultants to help with narrative structure, character development, dialogue punch-ups, etc., as well as other experts to aid in post production, distribution, etc.)
The consultation process involves reading your script, reviewing any materials you may have, and meeting in person or via a conference call for a detailed consultation. Following this, I will be available for further consulting as needed.

If you're interested in discussing a consultation, please fill out the form below. I will arrange a phone call with you to discuss the possibilities.