Nighttime at the Festival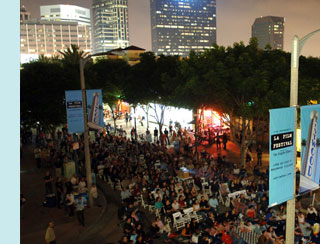 The move to Westwood was a success
This year's Los Angeles Film Festival (LAFF)(http://www.lafilmfest.com/) was truly bigger and better than ever before. According to the literature and speeches of LAFF representatives, the organizers were finally bringing a world-class film festival to Los Angeles. While they may still be comfortably behind Cannes, Sundance, and Toronto in terms of influence and importance, this year's edition was certainly a rousing success and moves LAFF one-step closer to those celebrated affairs.

Target Red Room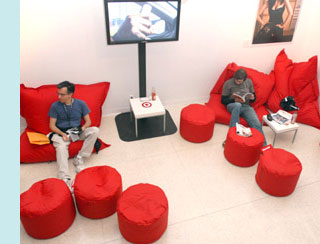 This is where poor filmmakers drank free booze
I made it a point to not only see a bunch of films, but also to attempt to see as many no-budget or low-budget films as I could determine. (Figuring out which films are no-budget before I see them has become somewhat of an art, whereby I study the credits published for a lack of name talent and analyze the catalog descriptions for clues to the film's budget origins. I suspect distributors are doing the same thing, in reverse.) I saw 17 films in all (nothing like my typical Toronto output), including all of the narrative competition films. In addition to providing a number of wonderful events and activities (including plenty of free booze and donated snacks daily at the Target Red Room), the festival premiered a wide range of cinematic treats, including hits from top festivals, ("Little Miss Sunshine"), lesser-known gems from smaller festivals, ("Chalk"), and world premieres, ("The Lather Effect"). Here is a run-down of some of the lower-budget and confirmed no-budget films I saw.
"CHALK"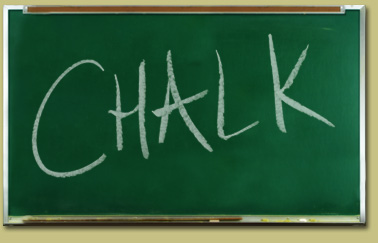 50% of teachers quit within the first 3 years
CHALK (http://www.chalkthefilm.com/) A bona fide crowd favorite, "Chalk" was one of the first Competition films to sell out. I went to the festival-added final screening and the packed house was in fits, as was I. Told in a verite, documentary-like style complete with interviews (but not a conscious mock-documentary), "Chalk" follows several young high school teachers and a first-year Assistant Principal during a typically tumultuous school year. Director Mike Akel and Writer/Actor Chris Mass were actual high school teachers and the film was shot in the Austin school at which they taught, and includes many actual students and teachers. This verisimilitude, along with some finely tuned comic situations that came from real-life experiences, give the film an honesty and truthfulness seldom seen in studio-produced school-set films. "Chalk" was shot on a DVX100 in a loose, almost improvised style that found the action as it occurred. While most of the film was scripted, it has a very natural, improvisational feel that can be attributed to the filmmakers ability to create situations on the spot, whispering instructions or lines in characters' ears unbeknownst to the other actors in the scene. Some of the best moments came out of this kind of seat-of-your-pants creativity. The final budget may have tipped into six-figures, but to me it qualifies as a no-budget film--production started with just $10,000. While the film missed the Audience and Target Filmmaker Awards, it did snag an Outstanding Performance Award for the ensemble cast. The filmmakers can add this prize to their already-crowded mantle, which includes the Grand Jury Award from the Independent Film Festival of Boston, the Audience Award from Cinequest, and another Special Jury Award for Acting from the Florida Film Festival.

"GRETCHEN"
Winner of the $50,000 Target Award
GRETCHEN
(
http://www.imdb.com/title/tt0473363/
) The aforementioned Target Award, the holy grail of festival prizes for broke independent filmmakers ($50,000 cash!), went to the nearly pitch-perfect "Gretchen". Steve Collins' drolly funny coming-of-age comedy (but oh, so dramatic) was called a female "Napoleon Dynamite" by Variety. While not as ostensibly commercial as Jared Hess' Sundance success (what happened with "Nacho Libre"?!?), "Gretchen" shares that film's tonal perfection and complete understanding and respect for its offbeat characters. Collins assuredly directs all his young actors, and leads his production crew, to create an idiosyncratic world that feels utterly real, even as it veers into comic mayhem. One of my favorite features of the film was its depiction of adults, who are usually rendered as ridiculous boobs or cartoonish bullies. Here they are portrayed as well-meaning, though often ineffectual, human beings. The film is perfectly cast; everyone from the leads down to the smallest day player are just right. You get the sense that the extras were picked out like one would pick out wallpaper; Collins decorates the frame with wonderfully oddball faces. Credit also goes to Production Designer Carolyn Merriman who literally decorates the frame with the subtle details of burning, awkward youth. Cinematographer P.J. Ravel--who is creating quite a resume for himself shooting Austin-based features like "Room" and "The Cassidy Kids"--shot on Super 16mm and we viewed a digital print, since no 35mm blow-up has been made yet. This will cost money and quite a bit has already been spent so far, relatively speaking--over $300,000. If it were up to me, I would have chosen to shoot digitally, something Ravel has done successfully many times. But who can argue when the results turn out as good as they did, (well, I can, that's why I started No Budget Film School in the first place!).
"HEAD TRAUMA"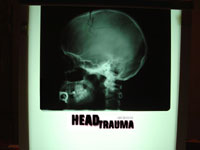 From the co-creator of "The Last Broadcast"
HEAD TRAUMA
(
http://www.headtraumamovie.com/
) Director Lance Weiler, co-director of the amazing "The Last Broadcast", took his time with the follow-up and it shows. After 3 1/2 years of work, which included 90 days of shooting in over a year's time, Weiler premiered "Trauma" in the festival's Dark Wave section, which was an appropriate venue for the creepy, often frightening, psychological thriller. Weiler shot over 220 hours of footage on a Panasonic DVX100, constantly asking himself how he could make the film better and not being afraid to chuck things that didn't work and reshoot. Because he could do so economically, he wrote a lot of the script with the camera, improvising on the spot and changing his plan often. The project developed therefore in a very organic way and Weiler was extremely pleased with the process. This kind of filmmaking represents one of the big advantages of a no-budget production technique. While there were days where the crew was as large as 15-20 people, some days there were just Weiler and his lead actor. In all, it cost him $70k to put the film in the can and to date, Weiler has spent $126,000 total, which has gotten him all the way to an HD master, a final DVD, and all the materials he needs to deliver for domestic distribution. The money was well-spent--the film is impressively put together with high production values in all departments.
Weiler came to LAFF with a mission. Unlike most of the filmmakers here, who with their reps and press agents saw the festival as a market and looked desperately for an elusive distribution deal, Weiler used the festival like the studios used it--as a launching pad for distribution. His own self-distribution of "Head Trauma". Sure there were distribs in the audience, making bad offers and giving good "happy talk." His experience with "Broadcast" and thereafter, however, taught him two things: 1.) very rarely do you make any money off conventional distribution deals (even the one's you read about that sound like the filmmakers made money); and 2.) how to release a film himself effectively, (which he did successfully with "Broadcast"). Weiler's plan for distributing "Head Trauma" is one of the best self-distribution plans I've heard of. It's so good, Weiler is writing a book about it, sharing this information with other filmmakers willing to work hard to ensure an audience for their movies and to guarantee that they are fairly compensated. Look for the book early next year and for a Moviemaker article he's writing in the next couple of months. Check the website to see how to make a dynamic and visually interesting web site! The film will play in at least 15 cities theatrically beginning August 18th, ahead of a DVD street date of September 26th.
"ANALOG DAYS"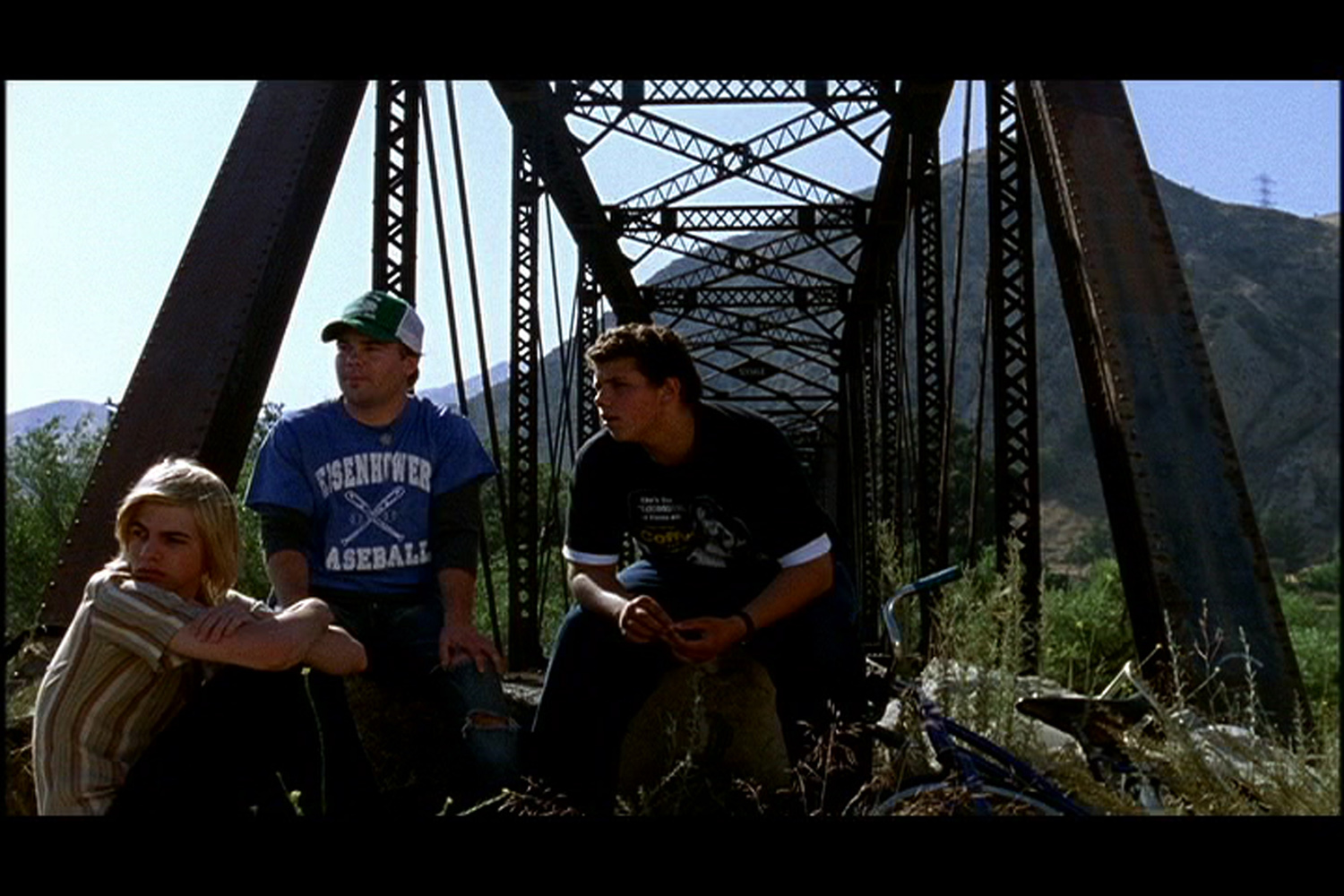 The first great film about Newhall, CA
ANALOG DAYS
(
http://www.analogdaysmovie.com/
) Filmmaker Mike Ott has made the first great film about Newhall, CA. The little town 30 minutes outside L.A., a stone's throw from Magic Mountain and Ott's alma mater CalArts, wouldn't be the typical setting for a studio-made tale of college youth. But it's ideal for an honest indie-made look at how "real" kids cope with life after high school, and for Ott, it's the only kind of version he knew how to tell--everything in the movie was pulled from personal experience, sometimes painfully pulled. "Analog Days" is a story about poor white kids, who make mixed cassettes, not CD's, and ride bikes, not cars. They go to Newhall Community College (where Ott is now teaching filmmaking), work in video stores, hang out on weekends, envy the rich kids, and wonder where their lives are going, perfectly captured by Ott and company. The film was Ott's thesis project for his graduate film degree at CalArts, following in the footsteps of fellow grad David Fenster, who premiered "Trona" at last year's LAFF, (which I reported on in my 2005 Wrap Up:
No Budget Newsletter #1 Archive
). Ott was able to get his whole crew for free--most were fellow students--as well as most of his equipment. He cast the film using an ad in Backstage West and read many, many actors before settling on his ensemble of mostly non-SAG actors, (he shot using the now-defunct SAG Experimental Contract), which he also didn't pay. He wrote his script around the free locations he could secure and sighted Chris Nolan's "Following" (one of my class case studies) as his inspiration. Because of various problems keeping non-paid crew in tact and the replacement of his lead actress 10 days into shooting, the production shot a total of 45 days over the Summer of 2004. He was able to secure a free S16mm camera package and so decided, fatefully, to shoot on film. Fuji was kind enough to give him half of it for free, but he ultimately got stuck in post when he couldn't afford to telecine it. It took him 8 months to slowly save the money to finally transfer all the footage, making editing during that time a very frustrating process. (No-Budget filmmakers, let that be a lesson--do yourself a favor and please, DON'T SHOOT FILM!). He edited on Final Cut Pro and did most of the sound design, recording foley and ADR himself. His buddy at a Santa Monica post house provided the color correction (and the telecine, after hours), and he was able to conform back to Digibeta at his step-father's post house. Ott owns a small music label and one of his bands, Pretty Girls Make Graves, provided many of the tracks for the score for free. Other songs were cleared by a music supervisor friend who was ultimately made an Executive Producer on the film. Because they only have festival rights to those songs, Ott hopes to keep as many as possible once he gets distribution. Next up for "Analog Days" is the Vienna Film Festival.
Cast of "THE LATHER EFFECT"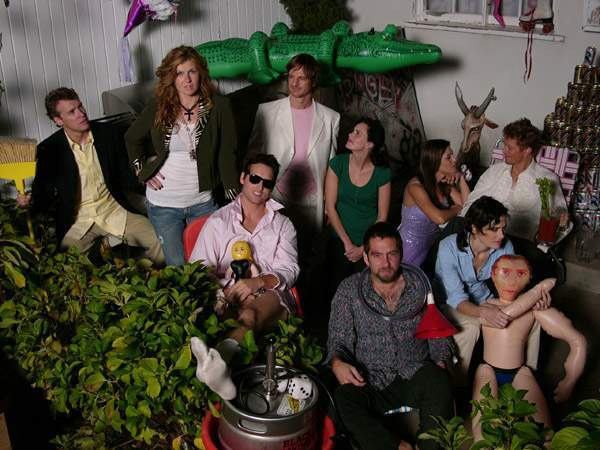 "Big Chill" for the Class of '86
Scene from "OUR DAILY BREAD"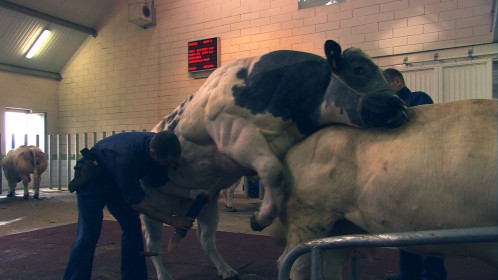 World's worst job: Sperm Collector
The festival also included many international films (my favorite was the harrowing French thriller
"13 Tzameti"
(
http://www.13themovie.com/
)) and a number of entertaining docs, including the soon to be released Sundance favorite
"This Film Is Not Yet Rated"
(
http://www3.ifctv.com/thisfilm/about.php
), the better-than-it-sounds HBO doc
"Mr. Conservative: Goldwater on Goldwater"
, (if you are at all interested in politics, this is a must-see), and one of the most unusual and captivating docs I've seen in years,
"Our Daily Bread"
(
http://www.ourdailybread.at
), which is a nearly silent look inside modern food-manufacturing factories. Yes, there will be times you will want to close your eyes!
Now, on to Toronto!
ARCHIVED EDITIONS OF THE NO BUDGET REPORT: