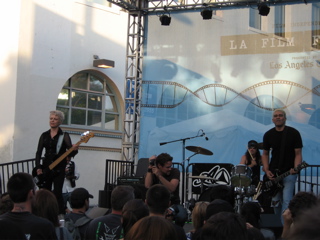 The Germs in Concert
Like the proverbial elephant to the blind men, the
2007 Los Angeles Film Festival
was a lot of different things to different people. To the cinephile, the LAFF was an excellent opportunity to see rare foreign-language films from a variety of countries. To the parent, the Westwood-based event was a great place to bring your children, replete with kiddie films and fun-filled outdoor activities. To the film hound, the festival was a cornucopia of revivals, ranging from John Ford and Samuel Fuller to campy genre classics. To others it was a place to see powerful documentaries or new releases weeks before the general public. And while it might have disappointed the attendee expecting to see a huge assortment of new American Indies (there were only eight films in Narrative Competition and not all of those were premieres), it once again managed to satisfy Yours Truly, loyally on the prowl for good no-budget fiction features.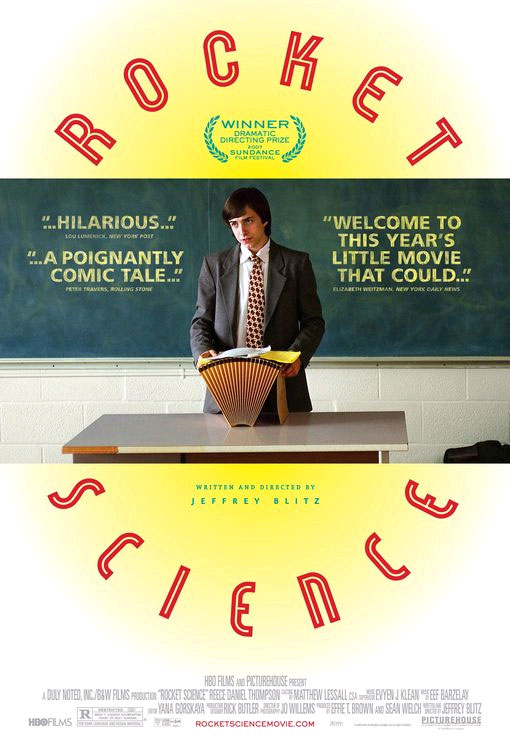 Sundance films were represented at LAFF
First let me say, Sundance this festival is not--and that's a bad thing and a good thing. While a film like
"The Beautiful Ordinary"
(a sort of "American Graffiti" for the ADHD generation, which World Premiered in Narrative Competition) pales in comparison to the similarly high school-set Sundance competition film
"Rocket Science"
(which played in LAFF's Summer Previews section), other films like the fascinating no-budgeter "Severed Ways: The Norse Discovery Of America" just don't make it into the Sundance of today. The best of the domestic post-Sundance festivals (SXSW, Tribeca, and LAFF) are giving a platform to a whole host of smaller, unique films that Sundance doesn't have the space for these days. Of course, being third in line as LAFF is makes it harder, but that's why there are so many other parts to the elephant, and it's here, in LAFF's programming and event diversity, that it excels.
THE YEAR OF LARRY FESSENDEN
LARRY FESSENDEN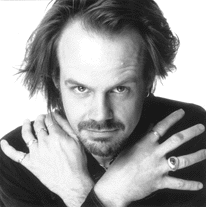 Director, Producer, Actor
As in the past two years, I've made it a point to see all the no-budget films I can. As you might expect, no one is advertising that their film was made for no money, which means I have to use my powers of deductive reasoning to determine a film's micro-budget origins. Certain aspects of the catalog description give it away--no stars, triple and quadruple multi-hyphenates (written, directed, edited, produced, catered by...). And then I have to contend with everyone's trepidation in admitting publicly that their movie cost nothing, as if that should have anything to do with it's eventual market value, (hello! doesn't anyone remember "Blair Witch Project"?!?). As I went through the catalog this year, one name kept popping up--
Larry Fessenden
. Now, I've known Larry since his second film "Habit" hit the scene back in 1997, winning the Someone To Watch Award. A true no-budget horror film, shot with a small group of friends in borrowed spaces with no money over a 45 day period,
"Habit"
exhibited the kind of positive qualities that all really good no-budget films possess, no matter the genre: uniqueness and naturalism. Much like my experience at this year's Sundance, where I recognized in several films the qualities of David Gordon Green's work, here at LAFF, it was the
"Year of Larry Fessenden."
"The Last Winter"
Directed by Larry Fessenden
"Liberty Kid"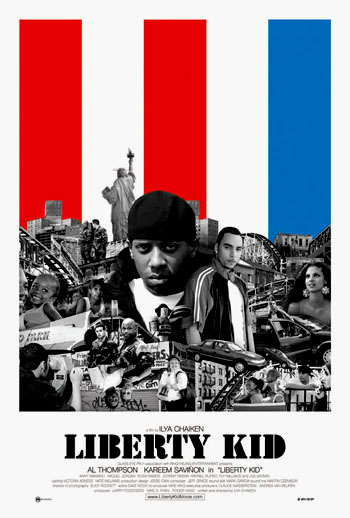 Produced by Larry Fessenden
Like Green, who premiered his $5 million "Snow Angels" at Sundance, Larry was here with his several million dollar environmental horror film
"The Last Winter,"
(which will be released by IFC Films later this year). As a director, he has clearly developed his craft over the years without losing the qualities that made his earlier work so interesting. Also like Green, it's the films he's not directing that are so interesting to me. At this year's LAFF, producer Larry Fessenden presented the under half a million
"Liberty Kid"
--director Ilya Chaiken's verite look at two young Dominican men in New York following 9/11--and the no-budget "Trigger Man," Ti West's existential and nearly experimental thriller. As different as these three films could be, they each exhibited those qualities of uniqueness and authenticity that Larry appreciates so much in his work.
SCAREFLIX - THE NEW CORMAN
SCAREFLIX
Larry Fessenden's Genre Company
Fortunately for a group of young, go-getter filmmakers, Larry is putting his money where his passion is. As a fan of Roger Corman, (more for his budget-conscious ingenuity than for the quality of his work), Larry created
Scareflix
, the genre arm of his production company Glass Eye Pix, which was established to make exciting and innovative horror films on tiny budgets. How small? Well, Larry is fully financing each of the films personally and he's on number six. According to Fessenden the goal, like that of Corman, is to create "a fertile environment for old timers to wrap up their careers and newcomers to prepare for theirs." It's also to fully explore the "diverse range of tones and subtexts that dwell in the horror genre." In each case Larry is a hands-off producer, providing a patient and relaxed atmosphere to support the filmmakers' visions, while offering the benefit of his experience, contacts, and creative input. For each Scareflix project he's looking for two things: 1.) a director who comes to the table with both a project and a plan for how to execute it economically, and 2.) a project that stands apart from the others in the genre. Interestingly, all of the no-budget films in this year's LAFF share the qualities of a good Larry Fessenden film.
NO-BUDGET FILMS AT THE FESTIVAL
TRIGGER MAN directed by Ti West
"TRIGGER MAN"
Directed by Ti West
Director Ti West made his debut at LAFF in 2005 with his 1980's horror throwback
"The Roost"
--produced and financed by Fessenden, (Scareflix #2)--and met with great success. The $50,000 Super 16mm feature was picked up out of the festival by Showtime Networks and Vitagraph Releasing in a mid-six figure deal. Pretty good for a kid right out of college. But as many filmmakers will tell you, the second film is always harder to get off the ground. In Ti's case, the success of "The Roost" meant more money for his next film, but with more money came more hassles and the whole project became such a nightmare to get off the ground that he put it aside and called Larry up for another no-budget go-around. Not wanting to repeat himself, he was inspired to make an existential horror film in the vain of Gus Van Sant's "Gerry" or Kelly Reichardt's "Old Joy" (both conspicuously not horror films). Larry was intrigued and so Ti wrote the script in ONE day and came back to Larry with a cast, a location, and his 18 page script ready to go. Yes, 18 pages. There's not a lot of dialogue in "Trigger Man" and the script is more of an outline for a movie.
"TRIGGER MAN"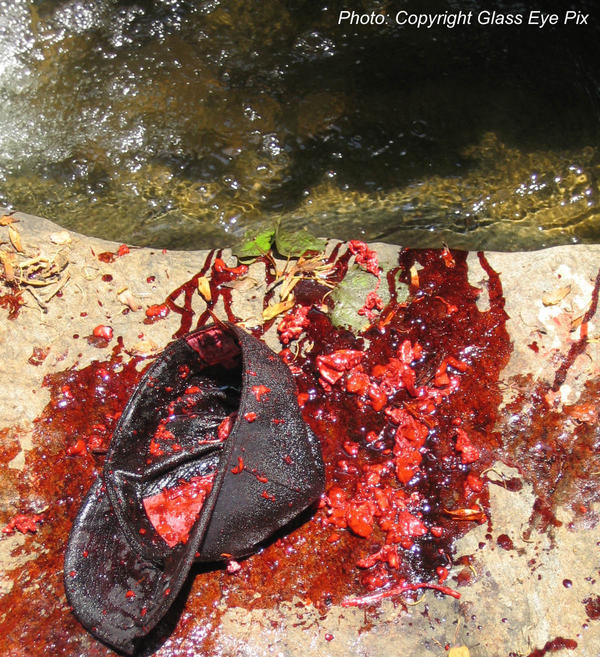 Special makeup F/X were convincing
Borrowing Scarepix's Panasonic HVX-200 (which was used to shoot "Liberty Kid") Ti, his actors, and the tiny crew (Ti, who shot the film; a producer/boom operator; and the special effects makeup guy) shot for seven days in June 2006 in New York and Delaware. The whole idea for making the film came from it's chief location, an abandoned mill and the adjacent woods that Ti grew up near. He always knew it would make a great location for a film and figured he would be able to shoot there hassle-free. Well, it almost worked out that way. On their final day of shooting, some people reported that there were men running around with rifles and five cop cars pulled up with guns blazing during the martini shot and forced the cast and crew on the ground. Fortunately they had a permit to shoot there and everything was straightened out soon enough. "Trigger Man" premiered at SXSW and garnered quite a bit of attention at LAFF, where an extra screening was added. The filmmakers say a distribution deal looks likely. (For more on the making of "Trigger Man," please visit my No Budget Films Page).
AUGUST EVENING directed by Chris Eska
"AUGUST EVENING"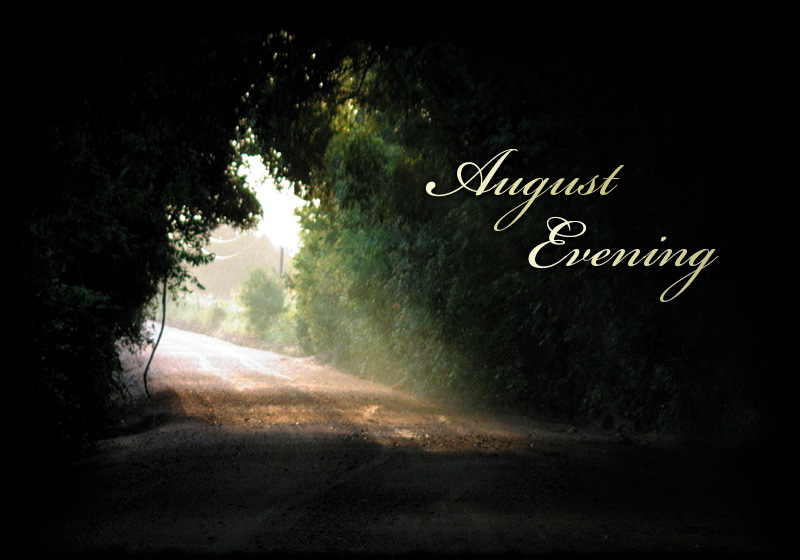 Directed by Chris Eska
Another film looking at a distribution deal from the festival is Target Filmmaker Award winner "August Evening." (Target pays filmmakers an unrestricted $50,000 cash prize!) Director Chris Eska's debut feature also shares the Fessenden characteristics of uniqueness and authenticity, though Fessenden wasn't involved with this character drama. The uniqueness of Eska's film is not in it's form, but in the nature of its central relationship, that of an older, undocumented Mexican worker and his recently-widowed daughter-in-law. Eska was able to achieve a high level of believability by casting mostly non-actors and by taking his time to let the story unfold, yielding truths about the characters and their environment through subtle details rather than heavy-handed dialogue, which was mostly in Spanish. While the production shot for a spacious 30 days, luxurious by most no-budget standards, there was nothing relaxing about shooting 180 scenes in 70 locations with 50-60 speaking parts in five six-day weeks. Eska shot in his home state of Texas in August and September of 2005 with an all-volunteer cast and crew.
"AUGUST EVENING"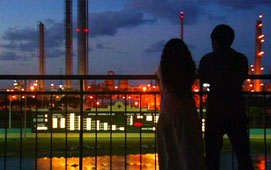 Starring Veronica Loren & Pedro Castaneda
While they rented the Sony F900 HD camera, many other key production items were procured for free, like meals. Generally food is anywhere from 15-25% of a no-budget film's total production budget, but Eska enlisted the fine ladies of Gonzales, Texas to cook meals for free. The community helped out in other ways, as all locations were free, including a chicken farm, factories, stores, and several homes. The cast and crew created a kind of hippy commune during the shoot, staying in rented houses, cooking and cleaning together, with older people mentoring the younger ones. Eska insisted on working with people who related to the material and were not looking at his project as "just another job." These volunteers included recent college grads who drove all over Texas for a month scouting locations and several first-time crew members. For the inexperienced, Eska held a miniature film school during rehearsals, teaching skills like how to light and hold a boom mic. Though there were a number of items the production had to pay for--tape stock, truck rental, production insurance--they were still able to get the film in the can for under $40,000, very impressive for an HDCAM feature with the scope of this one. The film was picked up out of LAFF by
Maya Entertainment
, a new distribution company devoted to providing content for Latino audiences. Eska is looking to transfer to film at Efilm, ahead of a theatrical release expected to reach at least 11 markets around the country. (For the full story on the making of "August Evening," please visit my
No Budget Films Page
).
SEVERED WAYS: THE NORSE DISCOVERY OF AMERICA directed by Tony Stone
"SEVERED WAYS"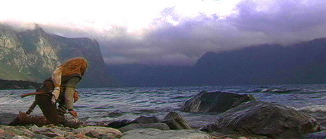 Directed by Tony Stone
One film that may not get distribution, but should pick up many fans along the festival circuit is multi-hyphenate filmmaker Tony Stone's "Severed Ways." Most people shooting with no money and no crew on a standard def video camera don't choose to make period pieces, especially ones set in 1000 AD. But after viewing Stone's effective and authentic rendering, I'm forced to ask myself, "why not?" As I teach in my classes, once Stone decided to make a movie, he made a resource assessment--"what do I have to make a movie with?" Like Ti West's "Trigger Man," Stone started with a location he knew well and had access to, and the idea for the story grew out of that. Stone grew up in New York City, but spent every summer living in a "hippy" house his dad built in the woods of Vermont, "off the grid"--no roads, no running water (not even a well, they collected water from the roof), no electricity other than solar power. Always fascinated with the Vinland Sagas, the stories of the Vikings' discovery of North America, and of movies and music about Vikings, Stone decided to tell the story of two Vikings left alone in the woods to fend for themselves against native American tribes and other dangers.
"SEVERED WAYS"

Actors performed all their own stunts
The idea of making a period genre film on video intrigued Stone--he saw it as an opportunity to do something different, open things up, and not make the characters so stiff. He wanted his characters to be relatable, to seem like people of today; he didn't want to put up a wall to the past. While he went to great lengths to tell the story in a realistic, factually accurate way, he also used modern heavy metal music in the score as a way of reinforcing the characters' belief system. And while they speak in the Old Norse language, the subtitled English translation uses a modern vernacular. Rather than coming off as a hokey anachronisms, these choices worked extremely well, further enhancing the authenticity of his characters. And one of the most amazing features of this film is its authenticity. More than any film I've seen of people surviving in nature, "Severed Ways" makes you understand what it must have been like to live in an environment where every day your survival is in question. Stone creates this empathy by showing the day-to-day processes and the unrelenting brutality of this existence, the stuff that most films leave out. Everything you see the characters do, Stone and his fellow actors are actually doing, like chopping down trees, building lean-tos, killing chickens, crapping in the woods, and trudging through the snow. The blisters on hands are not a makeup effect; in fact, the tops of Stone's hands are still numb from lying in the snow, on a day where he got hypothermia and nearly died, out in the middle of nowhere as they were. The widescreen 2.35 DVX-100 footage was upconverted to HDCAM and looked amazing in its world premiere at the festival. Inide film fans (and Viking aficionados) need to make this one a priority as it undoubtedly plays more festivals this season.(For the full story on the making of "Severed Ways," please visit my No Budget Films Page).
OWL AND THE SPARROW Directed by Stephane Gauger
"OWL AND THE SPARROW"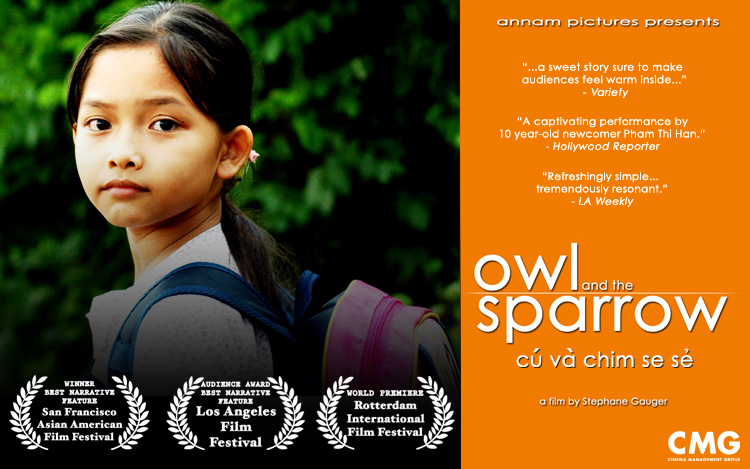 Directed by Stephane Gauger
Inspired by the verite-styled Michael Winterbottom film "Into This World," as well as the French New Wave, director Stephane Gauger was eager to tell a low-tech, low-concept story about his native Vietnam. Of course any film set in modern Saigon is exotic to American audiences, even one revealing the simple rhythms of everyday life. (Interestingly, three out of the four no-budget U.S. features I profile here were foreign language.) After working as a camera operator on the Vietnamese-set action film "The Rebel," the biggest budgeted Vietnamese film to date, Gauger was ready to go the opposite way with his story and let the people and the place do all the heavy lifting. The story of a 10 year old runaway who brings together a beautiful flight attendant and a lonely zoo keeper, Gauger knew the keys to success were realistic performances and the audience's immersion into the bustle of modern-day Saigon, a city of 8 million people.
"OWL AND THE SPARROW"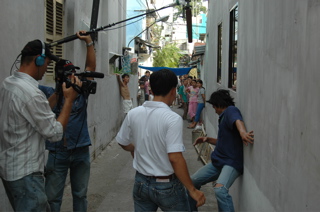 Shooting with DVX-100 in Saigon
Though the dialogue was 95% scripted, (the Ministry of Culture must approve all scripts and then you have to adhere to it), Gauger was able to get a natural performance by running two cameras simultaneously--one Panasonic DVX-100 shooting a wider master shot, and the other shooting close-ups, panning and fishing for little gems of emotion. Originally Gauger wanted to cast an actual flower girl from the streets, but he worried a non-actor wouldn't be able to carry such a difficult and important role. Two days before shooting they found young Pham Thi Han, who is wonderful in the film. After premiering in Rotterdam, the film played several other festivals before winning the narrative audience award at LAFF. Gauger is now in pre-production on "Powder Blue," a script he co-wrote with Tim Bui ("Green Dragon"), which Bui will direct in 2007 with actors Forrest Whitaker and Jessica Biel. (For the full story on the making of "Owl And The Sparrow," please visit my No Budget Films Page).
OTHER FILMS IN THE FESTIVAL
"KABLUEY"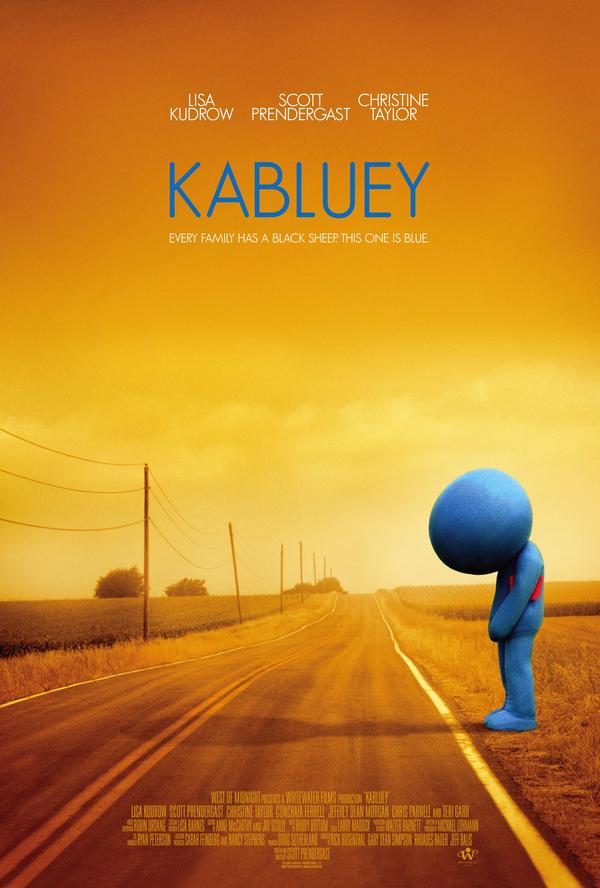 Written & Directed by and Starring Scott Prendergast
"CAT DANCERS"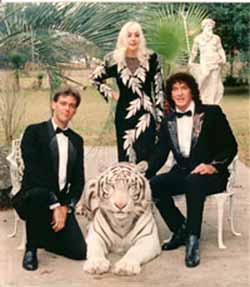 Harris Fishman's lurid doc was a crowd favorite
The rest of the higher budgeted films in the Narrative Competition section ranged from the "why is this in here" ("The Beautiful Ordinary"), to the "it's not very good, but I know why it's in here," (
"How To Rob A Bank"
and
"What We Do Is Secret"
), to the "I know why it's in here, and thankfully it's good" (Film Independent Lab project
"Kabluey"
). I enjoyed a number of films in the Summer Previews section, including the aforementioned "The Last Winter" and "Rocket Science," the upcoming
"2 Days In Paris,"
(a simple but very funny romantic comedy effectively directed by and starring Julie Delpy), and the currently playing
"Interview,"
which was much more entertaining than the conceit would lead you to believe. And surprise--Sienna Miller can really act.
"JUMP"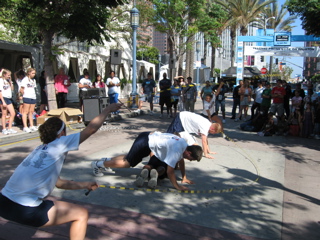 Stars of this doc really put on a show
I saw a number of compelling docs, though I missed Target award-winner
"Billy The Kid"
and distribution award winner
"Young @ Heart"
(Fox Searchlight picked it up for a reported $2 million).
"Jump"
was a crowd favorite, and the jump roping subjects of the film were everywhere you turned, acting as goodwill ambassadors for the sport and putting on an amazing demonstration of their abilities at the street fair. Audience award winner
"Resolved"
--the documentary flip side of "Rocket Science"--was a fascinating and timely look at high school debaters, while
"Cat Dancers"
expertly unfolded the bizarre and tragic story of a threesome of wild animal performers. "Dig" director Ondi Timoner was at the festival with her new film
"Join Us,"
which goes deep inside the inner circles of a religious cult and those trying to escape it, and psychedelic rock doc
"Love Story"
was a treat for someone like me who has many of seminal LA band Love's albums.
Target Red Room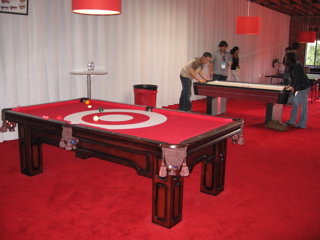 Even better in 2007

More than anything, the LAFF was a great time and the organizers were clearly working hard to create a unique and entertaining experience for both film fanatics and those working to become ones. From the special outdoor screenings at the Ford Amplitheatre to the hilarious screening of the 1974 disaster flick "Earthquake," presented in Sensurround no less, LAFF proved itself to be, once again, all things to all film lovers.
ARCHIVED EDITIONS OF THE NO BUDGET REPORT: