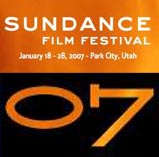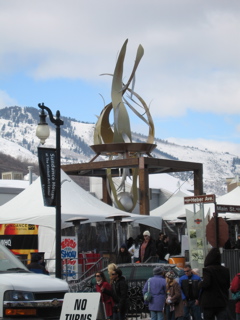 Main Street was bustling
As those of you who have diligently read my wrap-up of indie film events know, I cover these affairs from a slightly different perspective than other traditional media or even most film bloggers. When I go to a film festival like Sundance, I seek out films that could have been made by anyone, in terms of resources and elements, and then look for those unique qualities that got them into the festival in the first place. Many times, as I have so often mentioned in my classes, those qualities that enrich the film and make it special come out of the way the films were made. In other words, if the film had been made with greater resources, it might not have made it into Sundance. Some people call that "keepin' it real," something studio filmmakers (with the exception of Alfonso Cuaron and Paul Greengrass, apparently) have a very hard time doing.
DAVID GORDON GREEN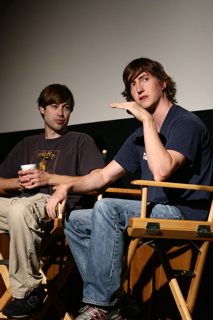 Green (right) spoke in my Oct. 2006 class
After spending 10 days at this year's festival and seeing umpteen movies, I've decided to dub this festival
"The Year of David Gordon Green,"
and not just because of his fine Dramatic Competition film
"Snow Angels,"
but rather because of the unique influence he had on several other films premiering this year--films that are creating their own inimitable path and will hopefully be influencing many more would-be filmmakers over the next couple of years.
"SNOW ANGELS"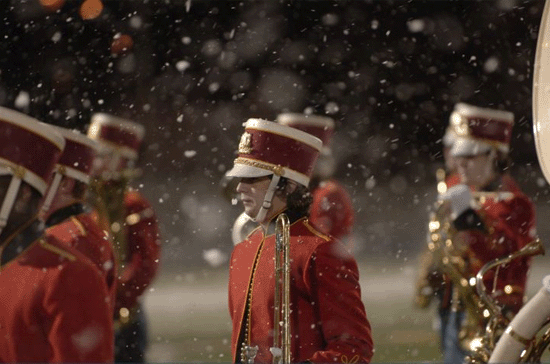 Directed by David Gordon Green
As you probably know, Green got his career going with the exceptional festival and critical fave
"George Washington"
back in 2000. Ironically that fine film did not make it into Sundance, premiering instead at the equally distinguished Berlin Film Festival on its way to making just about every serious critic's Top Ten List and winning a slew of awards once it was released theatrically. Ever since, Sundance has been welcoming him home like a native son and this year was no exception with his fourth feature, "Snow Angels." To his credit, "Snow Angels" shows a talented filmmaker evolving his form and stepping up his game, without losing any of the great qualities of his previous films. Green will have a chance to further develop his craft with his next film,
"Pineapple Express,"
a $30 million comedy for Columbia, which he is currently shooting in LA. Of course, "Snow Angels" was made for $5 million and doesn't really belong in a no-budget wrap-up.
"GEORGE WASHINGTON"
David Gordon Green's first feature
The real Green story, however, are the films he's been helping shepherd over the last couple of years. Those of you who took my October 2006 class heard Green speak in person alongside one of those disciples, former
North Carolina School of the Arts (NCSOTA)
classmate Jody Hill. Hill's $70,000 2006 Sundance feature
"The Foot Fist Way,"
which will be opening this Summer theatrically, wasn't technically produced by Green, but it was certainly influenced by him. And it shares certain key qualities with three new films that Green has put his stamp on for this year:
"Low And Behold,"
"Great World Of Sound,"
and
"Shotgun Stories."
These aspects--and listen up aspiring festival filmmakers, because these are what every top programmer is searching for--are 1.) an aversion to cliché and convention (in story, story-telling, and production technique); 2.) utter naturalism, (especially regarding performance); and 3.) regional specificity (an exploration of and appreciation for regional stories, characters, customs and values). For a primer on this kind of filmmaking, go back and rent "George Washington." To see how these qualities can be applied to a wide range of stories and genres, get out and see the following films. And the good news for no-budget filmmakers is you don't need money to achieve these elements; in fact, I would argue, films like these are much harder (or impossible) to make with big budgets. Stealing a quote from the "Low And Behold" website that perfectly expresses some of what these films do so wonderfully:
"The films I most eagerly look forward to will not be documentaries but works of pure fiction, played against, and into, and in collaboration with unrehearsed and un-invented reality." - James Agee
"LOW AND BEHOLD"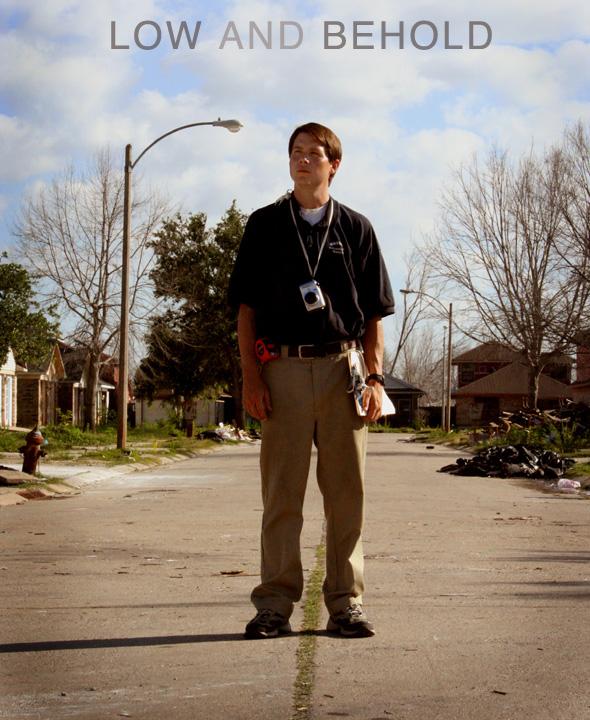 Directed by Zack Godshall; starring Barlow Jacobs
"LOW AND BEHOLD"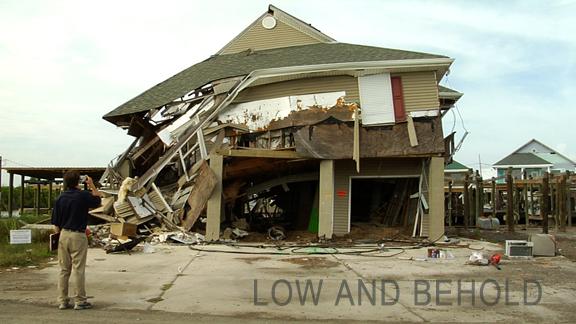 Set in post-Katrina New Orleans
LOW AND BEHOLD directed by Zach Godshall.
Though not produced by Green, his influence is all over the film and his name was mentioned about 17 times during the Q&A afterwards. The post-Katrina New Orleans-set comedy/devastating drama (you just can't call a film like this a "dramedy") utilized Green's New Orleans' offices, his pickup truck, his acting friends, and a number of his connections. "Low And Behold" captures the insanity of post-Katrina New Orleans from a resident's perspective. Writer Barlow Jacobs lived in New Orleans when the hurricane struck, and with Louisiana native Godshall, they decided that the city would make an ideal, larger-than-life backdrop for a no-budget feature, with plenty of "free" production value and a story behind every corner. "Low And Behold" follows Turner Stull (played by Jacobs), a naïve claims adjuster who has come to town to work for his semi-slimy uncle (hilariously played by Robert Longstreet). Jacobs worked in Florida as an actual claims adjuster following Katrina and realized it would make a great basis for a script--the stranger in a strange land who becomes the eyes and ears of the audience, guiding them through all the madness. With the little money he had made from claims adjusting, Jacobs purchased a
Panasonic HVX200
, some 8GB P2 cards, and an editing system and the script was written no-budget style, around the things they had available to them. One of the most compelling aspects of the film is the participation of many actual survivors of the storm. A key to success was getting good performances from these non-actors and natural performances from real actors and making it all seamless. Zach knew from the beginning that he wanted an understated, truthful performance that would blend in to the reality of the real-world backdrop. Much effort was made sculpting this kind of performance and anything that was unauthentic was cut from the film. Longstreet, who was featured in the Green-produced "Great World Of Sound," "George Washington" actor Eddie Rouse, and Jacobs, (also featured in "Great World Of Sound") are exceptional. Don't worry that you didn't hear about this film after Sundance--this one was a sleeper, and I think one of the best films of the Festival. Oh, and the HVX 200, how did it perform? The film looks fucking amazing, (pardon my French, it is New Orleans after-all). You really need to see it to believe it. (For the full story on the making of "Low And Behold," please visit my
No Budget Films Page
).
"GREAT WORLD OF SOUND"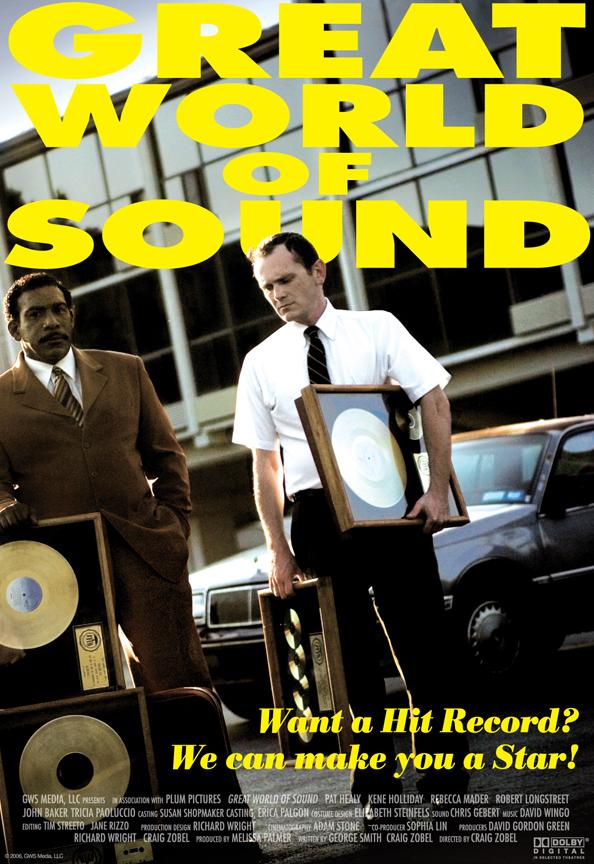 Directed by Craig Zobel
"GREAT WORLD OF SOUND"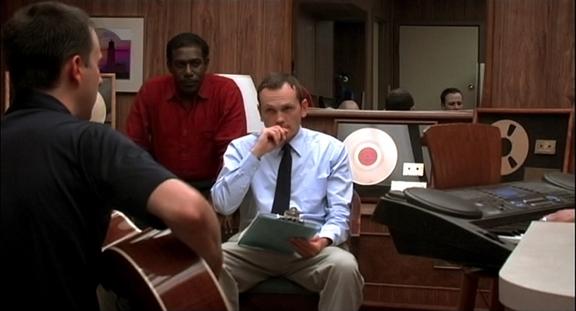 Starring Pat Healy & Kene Holliday
GREAT WORLD OF SOUND directed by Craig Zobel.
Part of Green's North Carolina mafia (Zobel graduated from NCSOTA a year or so after Green and has worked on nearly all of his films), Zobel's film was shot and set in Charleston, NC and utilized a wonderfully sneaky way to capture "real" performances. The film deals with a shady music producing company that preys on both its salesmen, who are recruited at the beginning of the film, and then on the hundreds of wannabes trying to make it in the music business, in a practice commonly known as "song sharking." Zobel rented an office/warehouse building throughout the course of his shoot and built elaborate sets with two-way mirrors. Behind the mirrors were Panasonic DVX100 cameras, two on dollies, one on a tripod. Star-struck locals who answered ads seeking aspiring musicians came in to audition, unaware that their performances were being filmed or that they were really part of a feature film, rather than trying out for a music label. Of course the 65 or so intrepid performers were eventually told that they were participating in a film that was determined to expose the hideous practice of preying on hopeful wannabes, and nearly all signed releases to be part of the project. In addition to being both hilarious and heartbreaking, these real performances set a high standard for the rest of the acting in the film. Zobel went to great lengths to obtain utterly authentic performances from his talented cast of real actors, insisting they make the words their own in an effort to achieve the required naturalism. Like Green, Zobel doesn't hold his own written words too dearly; he doesn't care that the actors change the lines as long as it sounds authentic. The triumph of the performances in GWS can not be overstated--many scenes involve real people who do not know they are being filmed interacting with two actors "performing," and the line between the two types of performances is seamless. Kudos to the two leads, Pat Healy and Kene Holliday (whom you may recognize from the late-70's sitcom "Carter Country"--if you're as old as I am!), who give endearing and affecting performances as the two salesmen who are scammed into scamming poor souls out of their money. Like "Low And Behold," GWS starts off hilarious, but then grabs you in the gut by the end.(For the full story on the making of "Great World Of Sound," please visit my
No Budget Films Page
).
"SHOTGUN STORIES"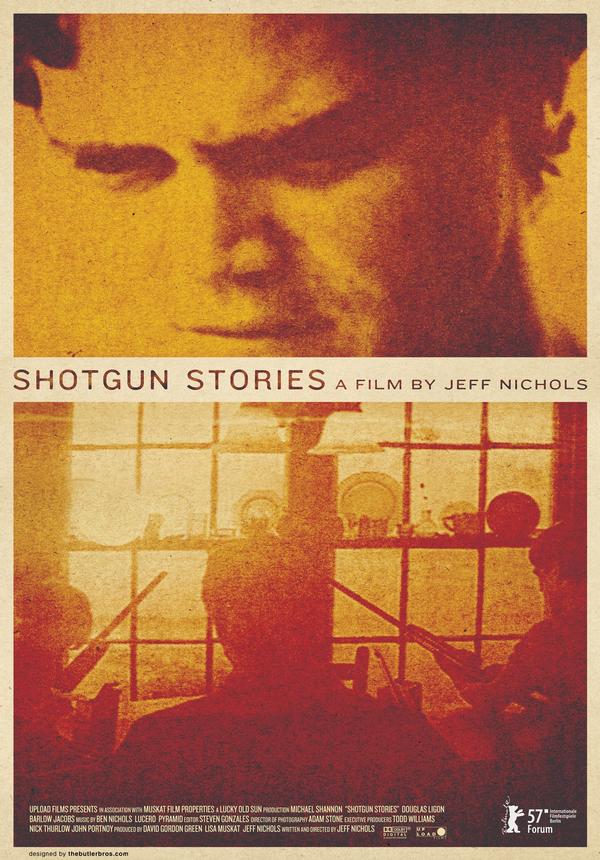 Directed by Jeff Nichols
"SHOTGUN STORIES"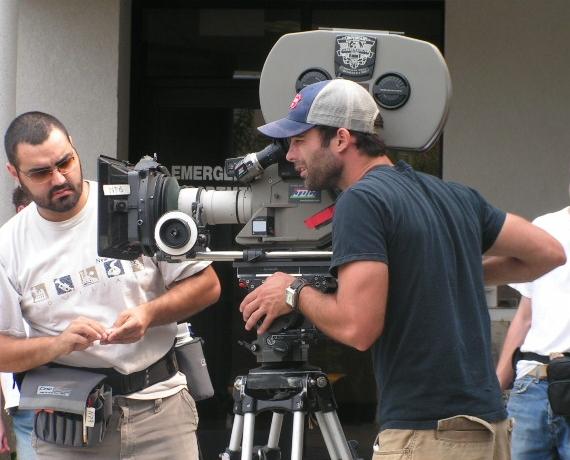 Shot on 35mm by Adam Stone
SHOTGUN STORIES directed by Jeff Nichols.

Another Green-influenced film that follows my edict but didn't make it into Sundance, "Shotgun Stories," like "George Washington," instead premiered in this year's prestigious Berlin Film Festival, receiving rave reviews from a variety of international critics. "Shotgun Stories'" regional setting was Southeast Arkansas, where Nichols grew up. Heavily influenced by Green's seminal "George Washington," (Nichols, too, graduated from NCSOTA a couple of years after Green), and David Lean's "Lawrence of Arabia," Nichols insisted on shooting his first feature in anamorphic 35mm. Again, like "George Washington," the landscape defines who these characters are--it explains men in the South and why they do the things they do. The fish farm at which the three lead characters work is very much a character in the story. Of course, shooting on 35mm with no money has its problems. In this case, unprocessed film sat around for several months until additional money was raised to develop it. This money and the money to shoot critical B-roll material a year later came from a variety of friends and family sources in Arkansas--Jeff's parents and girlfriend, his grandmother, the owner of the fish farm, a police officer--making "Shotgun Stories" regional filmmaking at its best. And to further extend the David Gordon Green connection: Adam Stone, the DP, was in the same NCSOTA classes as Green's cinematographer Tim Orr, shot 2nd unit on Green's "George Washington" and "All The Real Girls," and shot Green-produced "Great World Of Sound"; Barlow Jacobs, one of the leads in "Shotgun Stories," was the lead in "Low And Behold," and was featured in and crewed on "Great World Of Sound"; editor Steven Gonzales edited Green's first three features; and Green came on board to produce "Shotgun Stories" with his longtime producer Lisa Muskat. It doesn't get any more incestuous than that!
"THE SIGNAL"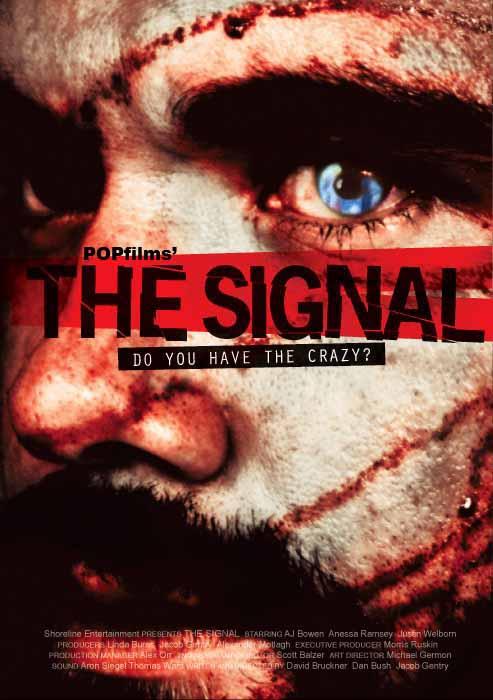 Directed by David Bruckner, Dan Bush & Jacob Gentry
"THE SIGNAL"
Shot with the Canon XL H1 HDV camera
OTHER NOTES FROM PARK CITY
The big no-budget success story from Sundance this year was the Atlanta-based
"The Signal,"
co-directed by a trio of filmmakers and shot with the new
Canon XL H1
HDV camera. The film was picked up for a reported $2 million by Magnolia. Of course now that there is big money involved, everyone's getting cagy about the film's no-budget origins, especially the distributor, (does no one remember that film set in the woods, you know, with the sticks, did like $150 million domestic, cost like, nothing?). Anyway, I don't have to tell you that an Atlanta-made horror film shot on a Canon with no stars wasn't made for a million dollars. And if you're reading this, you don't care. You'd want to see it even more if you knew that it wasn't, right? Also go see it because it's scary and entertaining, and because the script was designed with a low budget in mind, which actually is one reason it is scary. The production problem from the beginning was how do you explain something apocalyptic on a small scale? You follow the characters closely; you don't show what's around the corner unless the character sees it. Because there wasn't the money to "show everything," the question became, is it better to see it and not believe it, or show nothing, or just glimpses, and let the audience's imagination do the rest? I think you know the answer. The filmmakers (David Bruckner, Dan Bush and Jacob Gentry) shot long days on a tight schedule in order to capture the complex script. Much of the film is set in and around Bruckner's apartment complex, because in Atlanta, they were able to do that for free, and so they created a number of "games" within the geography of that environment. There was one unit and one story, but each director was in charge of directing that story from a different perspective, that of a husband, a wife, and the wife's boyfriend. Each director shot a different director's scenes in an incredibly unique and collaborative environment. The uniqueness of the production methodology translates on to the screen in a unique viewing experience. Magnolia should be releasing the film in August of this year.
SLAMDANCE FILM FESTIVAL

Great no-budget films screened here, too!
"CRASHING"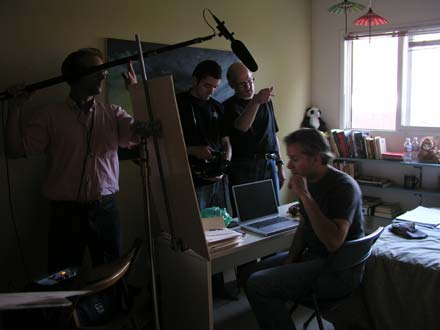 Behind the scenes of Gary Walkow's $10k feature
Sundance wasn't the only game in town for no-budgets;
Slamdance
, too, had many to show and I caught a couple. 1987 Sundance Grand Jury Prize winner Gary Walkow premiered his $10,000 film
"Crashing,"
the sequel to his '87 winner "The Trouble With Dick," over at Treasure Mountain. Shot in less than 10 days to accommodate lead actor Campbell Scott's busy schedule (he doesn't live in LA where the film was made), this incredibly smart, sinisterly clever, and exceedingly funny film about a fallen-from-grace writer suffering from writer's block who temporarily moves in with two sexy coeds who want to be writers, is sure to be a fixture on this year's festival scene. (For the full profile of "Crashing," please visit the
No Budget Films Page
).
"THE DEATH OF MICHAEL SMITH"
Directed by Daniel Casey
"THE DEATH OF MICHAEL SMITH"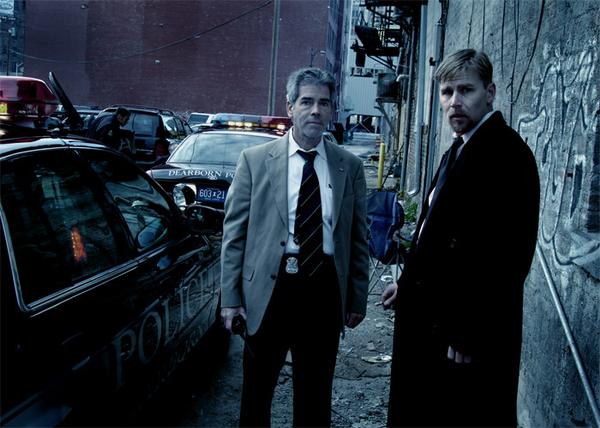 Shot for $541 in Detroit, MI
And if you think they didn't get any smaller in budget than $10k,
"The Death of Michael Smith,"
which also World Premiered at Slamdance, was made for just $541! And proudly so. Like "Crashing," "Smith" was shot on a DVX100 with a tiny 3-4 man crew. Director Daniel Casey shot the film over 8 weekends, usually shooting Friday night and all day Saturday and Sunday, utilizing an all-Detroit cast and crew. While some of this genre film feels derivative of higher budget fare, it is incredibly well put-together and the acting, usually the Achilles heal in a film like this, is consistently excellent. "Smith" will be a wonderful calling card for Casey--its writer, director, producer, editor and cinematographer--when he finishes his second year at AFI in the Spring.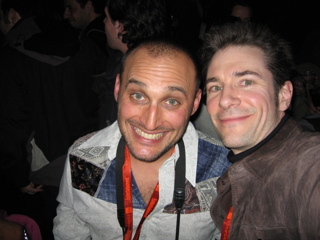 Director Amir Bar-Lev with Yours Truly
A big congratulations to two filmmakers with whom I have had the pleasure of working.
Amir Bar-Lev's
incisive documentary feature
"My Kid Could Paint That"
was a hit with audiences and buyers, with Sony Pictures Classics paying nearly $2 million for domestic rights. The film follows child prodigy Marla Olmstead, the four year old artist whose paintings have been selling for thousands of dollars. I worked with Bar-Lev on his first feature, the award-winning
"Fighter"
when
Next Wave Films
gave him finishing funds in 2000. Another filmmaker supported by Next Wave with a popular feature in this year's Documentary Competition was
Judith Helfand
. With her co-director
Dan Gold
, she premiered
"Everything's Cool",
which examines the difficulty of raising the public's awareness about the issue of global warming over the last 20 years. The film follows the same winning formula of irreverent humor and serious investigation that characterized their 2002 Sundance feature
"Blue Vinyl,"
which was repped by Next Wave.
ARCHIVED EDITIONS OF THE NO BUDGET REPORT: